Grace Kelly's Wedding
Please note that purchases made through our links may earn this site a commission, which helps fund the ongoing maintenance and development of this website. Thank you for supporting our mission.
American actress Grace Patricia Kelly married Prince Rainier III of Monaco in 1956 in two separate ceremonies: a civil ceremony on 18 April and in a Catholic Mass on 19 April. The wedding was called "The Wedding of the Century" and is still considered one of the most beautiful weddings ever.
The Wedding Dress
Grace's wedding gown was designed by Helen Rose, who had dressed her in High Society and The Swan. The gown was the most expensive dress that Rose had ever made.
The wedding dress consisted of a rounded collar, full skirt of ivory peau de soie, and a fitted bodice made from Brussels lace embroidered with seed pearls. The lace was over a century old and had flower designs in it. 25 yards of silk taffeta and 100 yards of silk net were used in the construction of the dress.
Under her wedding gown, Grace's petticoats had tiny blue satin bows.
The Jewels
The Engagement Ring
Grace's Cartier engagement ring from Rainier featured a 10.47-carat emerald-cut diamond and two baguette diamonds mounted in platinum. She wore the ring as her character's engagement ring in High Society.
The Friendship Ring
On 28 December 1955, Grace started to let people know about her engagement to Rainier. Rainier gave her a friendship ring, a band with diamonds and rubies, until the diamond engagement ring could be made.
Other Jewelry
Grace also received a beautiful jewelry set created especially for her by Van Cleef & Arpels, consisting of a necklace, bracelet and earrings of diamonds and pearls. She can be seen wearing it in Van Cleef & Arpels by Sylvie Raulet.
The Flowers
Grace's bridal bouquet was of lily-of-the-valley, and the ribbons of her bouquet had small sprigs attached to them. She left the bouquet on the altar of the Chapel of St. Dévote after the wedding.
Grace's "Juliet cap" headpiece was decorated with orange blossoms. Reproductions of the headpiece can be purchased at Long Live the Marriage.
Grace's matrons of honor carried bouquets of tea roses, and the flower girls carried white daisies.
The Guests
The wedding hosted an impressive roster of 700 guests, comprising reigning royalty and renowned figures from the entertainment industry such as Aristotle Onassis, Ava Gardner, Cary Grant, Conrad Hilton, Gloria Guinness, Aga Khan III, David Niven, and Gloria Swanson.
Photos
The Wedding in Monaco Film
In exchange for Grace's release from her contract, MGM aired both of the wedding ceremonies, and created the film The Wedding in Monaco. It can be viewed in two parts:
Newsreels
British Pathé issued newsreels about the royal wedding, Grace and Rainier's romance, and Grace's life.
Books
Grace Kelly: Icon of Style to Royal Bride by H. Kristina Haugland
The book commemorates Grace's iconic wedding to Prince Rainier of Monaco on its 50th anniversary, capturing the significance and lasting impact of this historic event. It delves into Grace's journey from humble beginnings in Philadelphia to Hollywood stardom, showcasing her iconic fashion choices and the renowned "Grace Kelly Look." The book also focuses on the exquisite details of her wedding gown and accessories, gifted to the Philadelphia Museum of Art, and takes readers on a journey through their design, craftsmanship, and symbolism. Through Grace's story and wedding significance, the book inspires readers with her enduring charm and elegance, offering a keepsake for admirers of her timeless style and contributions to fashion and Hollywood history.
The Wedding Dress by Oleg Cassini
Authored by Oleg Cassini, who was once engaged to Grace, this book provides a compelling exploration of bridal fashion history. It showcases a plethora of photographs from renowned photographers and presents various styles from celebrated designers. Highlighting notable figures like Grace and Jackie Kennedy, the book appeals to future brides and fashion aficionados. It offers rich historical context and a wide spectrum of fashion styles, particularly catering to those fascinated by the intersection of fashion and celebrity culture.
With This Ring: The Ultimate Guide to Wedding Jewelry by Penny Proddow & Marion Fasel
In Style's jewelry editors deliver a comprehensive guide on wedding jewelry, merging history, trends, and design guidance. The book blends technical details and celebrity pieces, showcased through Darrin Haddad's stunning photographs. It highlights Grace's timeless elegance and pays tribute to both actual and Hollywood royalty. Beyond its aesthetics, it educates on the "4Cs" of diamonds—carat, clarity, cut, and color—and gives a brief history of wedding jewelry. Despite lacking pricing details, it's praised for its informative content and inspiring design insights. This guide, more than a mere photo compilation, offers an engaging and educational glimpse into the wedding jewelry world, appealing to the engaged or those captivated by celebrity luxury.
The Way We Wed: A Global History of Wedding Fashion by Kimberly Chrisman-Campbell
This comprehensive exploration of matrimonial attire throughout history embraces a wide variety of styles, accessories, and personal narratives from notable figures, such as Princess Diana and Meghan Markle. The narrative showcases the evolution of wedding fashion from the Renaissance to today, transcending the traditional white gown to include an array of colors and styles worn by all wedding party members. It chronicles the evolution of wedding attire and serves as a tribute to the personal stories these garments tell. The cover features Grace's iconic wedding ensemble, a timeless symbol of bridal elegance that had a significant influence on wedding fashion, reinforcing her place in the annals of style history.
Legendary Brides by Letitia Baldrige
This book provides a comprehensive exploration of Grace's wedding to Rainier in the chapter "From Star to Princess: The Wedding of Grace Kelly," along with other famous weddings such as those of Jacqueline Kennedy and Princess Diana. Authored by Letitia Baldrige, known for her expertise in etiquette and social grace, the book offers practical advice, authoritative insights, and amusing anecdotes on every aspect of planning a modern wedding. Drawing from a century of memorable weddings, including Grace's iconic ceremony, Baldrige reinterprets unique touches and provides timeless ideas for gowns, flowers, cakes, music, invitations, table settings, and more. Lavishly illustrated with rare photographs and illustrations, the book recreates the fascinating details and atmosphere of these legendary weddings, making it a delightful read and an indispensable sourcebook for brides-to-be seeking inspiration from the past.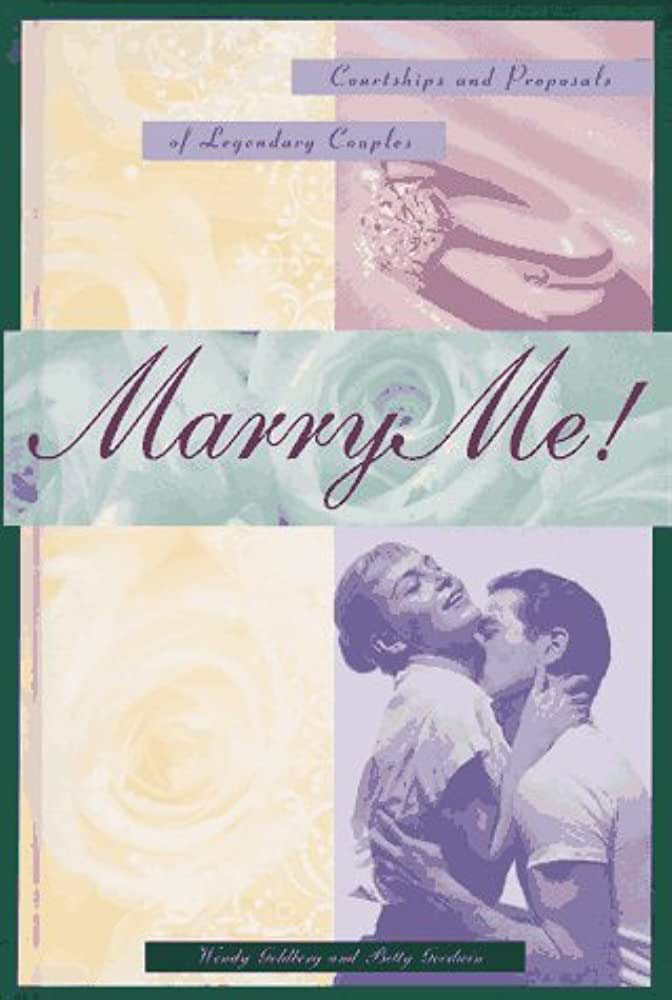 Marry Me!: Courtships and Proposals of Legendary Couples by Wendy Goldberg & Betty Goodwin
The book documents the love stories of many famous couples, including Grace and Prince Rainier III. Their chapter documents their relationship from the their whirlwind courtship and engagement, to the royal wedding. The authors paint a vivid picture of the glamorous Hollywood era of the 1950s and the enchanting European principality of Monaco. The book delves into the challenges and expectations faced by Grace and Rainier as they navigated their relationship and the pressures of royal obligations.
Bridesmaids: Grace Kelly, Princess of Monaco, and Six Intimate Friends by Judith Balaban Quine
This book offers a unique perspective on Grace, her life, and wedding. The author, a longtime friend and bridesmaid in the 1956 wedding, shares vivid anecdotes about their lives and the media frenzy surrounding the 1956 wedding. The book reinforces the image of Grace as a multifaceted person and loyal wife, mother, friend, and philanthropist.
Trivia
We also have general, movies & acting, and fashion trivia.
Meeting & Engagement
Grace's introduction to Prince Rainier III was to take place at the Cannes Film Festival while promoting The Country Girl. However, an unexpected power outage, triggered by a strike from electrical workers, left Grace unable to iron her clothes wrinkled from travel. Undaunted, she chose a no-iron, wrinkle-free floral McCall's dress and accented it with artificial flowers in her hair, and the two were able to meet as planned.
Rainier proposed to Grace during the Christmas season in 1955 at her family's home in Philadelphia, Pennsylvania.
When their engagement was announced in 1956, Grace drank vodka on the rocks and Rainier had a sidecar.
Pre-Wedding Travel
Two weeks before her wedding, Grace traveled from New York to Monaco on the SS Constitution, accompanied by 65 people.
Upon their arrival, a crowd of 20,000 Monaco citizens, approximately the entire population of the principality, warmly greeted them.
Attire
At the civil ceremony, Grace wore a high-necked, flared-skirt, suit dress made of cream lace over pale pink taffeta by Helen Rose, with a matching Juliet cap and kid gloves.
Prince Rainier III designing the military uniform that he wore to the ceremony, drawing stylistic influences from Napoleon Bonaparte's uniforms.
After the civil ceremony, Grace attended Monaco Opera in a Lanvin ballgown. The white silk organdy gown, complete with a V-shaped décolleté, a high waistline, and a full bustle, was hand-embroidered and embellished with 800,000 sequins and 1,500 pearls and rhinestones.
The shoes paired with Grace's wedding dress were designed by David Evins for Evins, New York. A copper penny was built into the right shoe for good luck. Contrary to popular belief that Grace wore flats so that she would not be much taller than Rainier, the shoes actually have 2½-inch heels.
Noted hair stylist Sydney Guilaroff did Grace's hair. The two had previously worked together on Green Fire, The Swan, and High Society.
Joe Allen Hong from Neiman Marcus designed the bridesmaids' dresses. They were made of a yellow silk organdy, a shade called "sunlight," and featured a yellow silk taffeta underdress. The wedding party also wore dresses by Hong, produced in Dallas by Priscilla Kidder, also known as Priscilla of Boston.
Ceremonies
As per Monaco's Napoleonic Code, Grace and Rainier had two ceremonies: a civil ceremony on 18 April 1956 and a religious ceremony on the following day, 19 April 1956.
The religious wedding ceremony at Saint Nicholas Cathedral in Monaco was televised, reaching an audience of 30 million.
Grace held Rev. J.M. Lelen's Bride's Manual: A Manual of Catholic Devotion with Mass for the Marriage Ceremony and the Nuptial Blessing during the religious ceremony. The book was a gift from family friend Mrs. John F. McCloskey of Chestnut Hill and was decorated by MGM's wardrobe department.
Celebrations
After the civil ceremony, the couple attended a special gala performance at the Monte Carlo Opera, where Grace wore a tiara for the first time.
Following the civil ceremony, all 3,000 adult residents of Monaco were invited to a gala honoring the newly wedded couple.
The wedding reception featured a six-tier wedding cake that weighed about 198 pounds and contained two live doves.
The celebrations included performances by singers Georgia Gibbs and Channing Pollock.
Gifts
For their engagement in 1955, Rainier gave Grace a Van Cleef & Arpels pearl necklace, which she can be seen wearing in Van Cleef & Arpels by Sylvie Raulet. As a wedding present, Rainier gave Grace a jewelry set comprising a necklace, bracelet, and earrings, also from Van Cleef & Arpels.
As a wedding present from MGM, Grace received her entire wardrobe from High Society, as well as her magnificent wedding dress.
At the request of Rainier, the House of Creed created a perfume called Fleurissimo as a wedding present for Grace. The fragrance was later worn by fellow style icons Jacqueline Kennedy Onassis and Madonna.
After the religious ceremony, Grace and Rainier rode through the streets of Monaco in a cream and black Rolls Royce convertible, a gift from the people of Monaco.
Honeymoon
Following their nuptials, Rainier and Grace embarked on their honeymoon, sailing around the Mediterranean on the Deo Juvante II, a 147-foot yacht gifted by Aristotle Onassis.
Grace and Rainier spent part of their honeymoon at Mallorca's Hotel Barceló Formentor.
Legacy
We also have general, movies & acting, and fashion trivia.